Subjective evidence of the professional skills of John Orendt

The following is subjective evidence of my professional skills. I can fax or mail photo copies of the originals if requested.

Decenber 11, 2015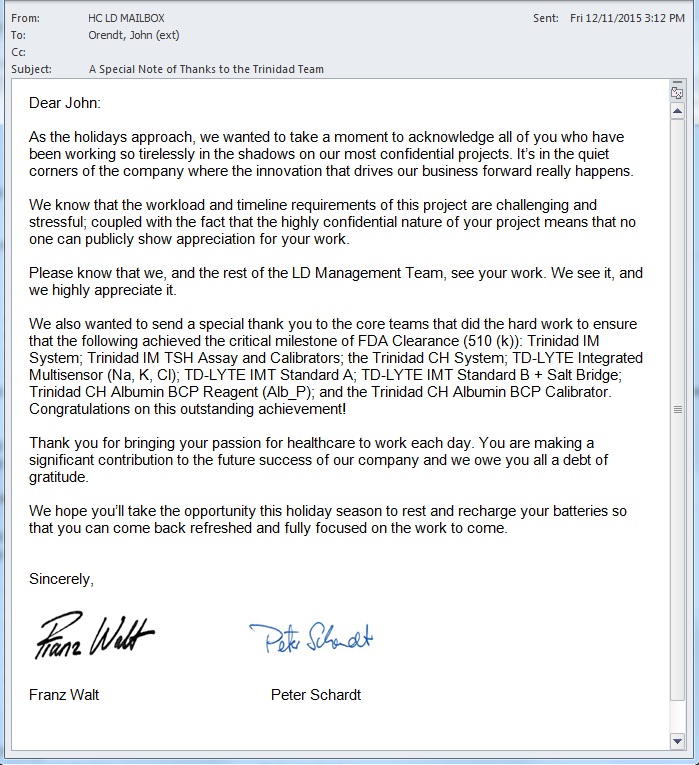 Attention All Treasury Staff

11 August 1997
Attention All Treasury Staff
As you are all aware, the RBA recently spent a week in Treasury to assess our risk management processes in respect of Prudential Statement C3.
Last Thursday we met with the RBA team to receive their findings and I am very pleased to say that they have returned a favourable report. There are some minor issues that require attention but generally they are happy to allow us to use our recently developed internal models for market risk measurement. This certification from the RBA will result in capital savings for the Bank and is a strong endorsement of our processes generally.
I would like to thank all of those involved with the RBA review for their efforts and, in particular, would like to recognise the great contribution of Simon McCarthy, Thomas Agus, Ross Collins, Spiro Krilis and the systems development team - Paul Hawkins, John Orendt and Gordon Toms.
Well done all!
Regards, Mike Hirst
Colonial State Bank Treasurer

Reference for John Orendt
John was employed on the Austraclear 2000 Project as a C++ Programmer during 1995/96. The project involved the construction of a high performance, distributed, object oriented clearing and settling system for Austraclear Limited.
The application required a high level of security, as it is a distributed application interconnecting every major Treasury in the country and the transactions may involve up to a billion dollars a transaction.
John played a key role in establishing the security layer for the application. This involved the modification and extension of a complex maths security library that handled both a Public Key Cryptosystem and a Private Key CryptoSystem. The former is used in the key exchange protocol (conforming to the Diffie Hellman Station to Station Protocol), the code of which was constructed from scratch by John. The latter is used once authentication and key exchange is complete and is used as part of the object transmission and distributed task system.
John mastered this area and his work was critical to the success of the project.
Gary Aitchison
Product Manager

To Whom it May Concern
I have known John Orendt since 1993 when he joined me in Treasury Systems at the State Bank of NSW after migrating from USA. John was attracted to Treasury Systems because of a desire to stay working with Unix and C++ but in a financial organisation. John has certainly satisfied that desire and takes every opportunity to learn the business either by attending internal training sessions or spending time with the trainers. John consequently enjoys his work and goes about it in an enthusiastic manner.
John joined the applications maintenance group, specifically working on the foreign exchange module of StateTrader and became conversant in that application. The maintenance team is a very close group that share social time together and John is a welcome member of that community.
John is however most comfortable in developing and maintaining object oriented applications in a Unix client server environment. He is a good C++ programmer, work is accurate, well tested and reliable. He likes to thoroughly analyse the problem before coding the solution and enjoys interaction with various users. Naturally John is very comfortable with the Unix operating system and has been exposed to a variety of hardware vendors. John has also worked with the Sybase relational database.
In conclusion John Orendt has considerable experience developing client server and object oriented systems on both PC and Unix hardware being proficient in C++ relational databases. John is enthusiastic and enjoys his work especially when challenged by the financial industry. He would therefore be an asset to any IT organisation operating in a similar technical field.
Tony Singleton

Sycomp Pty Ltd
To whom it may concern
John Orendt has worked at Sycomp for 6 weeks on a contract basis to design and program a parameter selection screen with lookups to reference tables and dynamic screen creation.
The environment used is C++ Microsoft Windows, and object oriented development.
John has completed the project with a meticulous eye for detail and has completed the project on schedule. He has worked well with other team members and has earned the respect of his peers in a very short time.
We recommend John to any prospective employer and wish him well for his career in Australia.
Yours sincerely
Justin ManIntosh
Managing Director
Sycomp Pty Ltd

September 17th 1993
To whom it may concern:
John has done great work at Astro Aerospace designing and developing our test software for the Space Station Mobile Transporter project. In particular, he has produced Windows GUI software using Borland C++. His code is of an excellent standard and I have enjoyed working with him.
Sincerely,
A.Mallett
Lead Software Engineer, Astro Aerospace Corporation

April 24, 1992
To Whom it May Concern:
I am pleased to recommend Mr. John Orendt of J & R Consulting, Inc. John has contributed significantly to our software development effort during the development of an object oriented database implemented in C++. John has been a very diligent and professional member of our development group and has additionally been a very positive force towards unification and team building.
Sincerely,
Kip McAtee
Manager, Software Engineering

HUGHES PERFORMANCE APPRAISAL-SALARIED EMPLOYEE
SECTIONS C AND D TO BE COMPLETED BY SUPERVISOR
Supervisor's Name: Warren Dixon rating of John Orendt
C. PERFORMANCE EVALUATION: Using the factors on the next page as a guide, evaluate the employee's performance over the total appraisal period. Assess the individual's performance as related to his/her job requirements.
The employee has demonstrated positive performance or improvement in the following areas:
1) John has demonstrated outstanding degree of self-motivation. John actively seeks out areas of new design work and develops new designs on his own initiative. He also scrutinizes the current design for areas of improvement/optimization.
2) Technical knowledge is excellent. Thorough grasp of all areas of HPRF. Demonstrates keen sense of making code efficient in time and PM usage. Has optimized large parts of HPRF code.
3) Good work habits: punctual at work and almost always can be found at either desk, terminal or lab.
4) Developed lab skills in roofhouse, can run lab shift.
5) John has good inter-personal skills and works well with and is accepted by radar software community in Canoga Park.
The employee can/should improve his/her performance by:
1) John can improve by making consistent travel plans, not changing his plans as much, and having his supervisor know his travel plans.
2) John can improve by getting involved with and learning other parts of the tactical software, such as MPRF and track file manager.
3) John can improve by learning more lab test procedures; in particular how to use the DLQ3 for tape 3 testing.
4) John can improve by getting a better "systems" understanding of AMRAAM as a whole.
D. OVERALL RATING: Indicate overall rating in scale below consistent with comments above.
OUTSTANDING (1)
EXCELLENT 2
GOOD 3
IMPROVEMENT REQUIRED 4
UNSATISFACTORY 5
Rating Supervisor: Warren W. Dixon Group Head Jan 21, 1985
Organization Review:
Employee Acknowledgement of Appraisal: John Orendt

Hughes Avoid Verbal Orders CIP
Source code Bld M/S EXT.
To: R. Ransbottom
Source code Bld M/S EXT.
From: J. Conrad 5F C1 10 262 C66 3714
Subject: Commendation for John Orendt 7/29/86
I would like to commend John Orendt for his valuable contributions to the DAGC diagnostics tests which exercise tactical hardware and software under precisely controlled test conditions. Under schedule pressure, he successfully conducted these tests in both Canoga Park and Tucson.
John has also developed a subset of these DAGC tests which are currently being run on each tactical missile in Tucson and trained Tucson Personnel to run these tests.
On a program where long hours and high pressure are the norm, it is appreciated when a person goes the extra mile.
J. C. Conrad

Electro-Magnetic Designs Using Advanced Computer Techniques
October 30, 1989
TO WHOM IT MAY CONCERN:
With this letter I am proud to recommend Mr. John Orendt for employment in technical software development.
During his employment by our company John proved to be an able self starter who completed his tasks with little supervision.
John also showed the ability to develop technology on his own where it was unavailable and needed for his tasks.
His dedication to our company and to his job were sorely missed when John decided to re-locate out West.
Sincerely,
Paul K Goethe,
President
PKG/m

Email: Phone: 808-372-1570 Home Contact Web Design